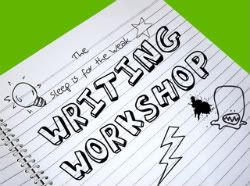 I've decided to take part in the Writing Workshops over at Sleep is for the Weak. But, of course, this week Josie posted a bunch of prompts, all of which spoke to me and I wanted to write to. Today I've settled on this: "What is your personal motto?"
Sometimes I sing my way through my days. Sometimes I grumble my way through. But isn't grumbling in rhyme so much more poetic? Plus rhyming makes things silly and therefore you can laugh at yourself.
Really its a win and win -
This rhyme I'm talking in.
"What's that? The bills are unpaid,
We've nothing to eat?"
Don't be a Negative Nellie,
Be a Positive Pete.
The children are learning how to get by, and more,
That happiness doesn't always come from a store.
So what if we can't buy them fancy new things?
We should always
be happy with what our life brings.
"What's that? The children are sick,
your boss is a pain in the a--?"
Remember my darling,
This, too, shall pass.
Remember that time we though it was surely the end?
But instead we found a new beginning round the bend?
When we found out the baby was sick but didn't know why?
And answers weren't pouring down from the sky?
We don't feel that way now, do we my dear?
Things are less murky, even if they aren't perfectly clear.
Our family is stronger, healthier, and all the rest
So what if we aren't always at our best?
God doesn't give us more than we can handle
, you know
He has a plan for us
, though it won't always show.
So what if it looks like everyone's doing better than us?
I'm sure that they aren't, that they've just as much fuss.
We won't know unless we
walk a mile in their shoes
But this is our life and we can't always choose
What happens to us and how to react.
The only thing we can chose is how to act.
Grab our life by the horns
and
get back up on that horse
We must take charge of our lives and direct their course.
The children are happy, they smile and dance,
They haven't unpatched holes in their pants,
Family is the most important thing
not money, or success and what they bring.
As long as we're getting by, we're fine.
Now roll over, dear,
I'll scratch your back and you scratch mine.